ASTROLOGY IS A SCIENCE IN ITSELF AND CONTAINS AN ILLUMINATING BODY OF KNOWLEDGE; IT'S JUST A FINGER POINTING AT REALITY. THERE IS NO BETTER BOAT THAN IT TO HELP A MAN CROSS OVER THE SEA OF LIFE. IT TAUGHT ME MANY THINGS AND I AM GREATLY INDEBTED TO IT.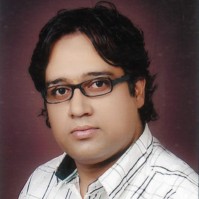 WELCOME
            For Astrology subject it has been said that, "Vedasya Nirmalam Chakshu Jyotishshastrakalmasham" which means that Astrology (Jyotish) scripture is a holy eye of god Veda, it is that invaluable asset which has been adopted since the time of Rigveda. In this website I have seriously attempted to explain the mystery behind planetary movements and their effects on an individual's life. From my researches I have acknowledged that the ongoing events in one's life as well as the events which have already occurred are arranged in such a manner that an individual gains spiritual lessons from them at every step. If an individual by hearts the secret behind the Karma and the role of planets in his life then, he will be capable to elevate his life for well being, as well as if any person by considering his life's problems as an old debt tries to mentally differentiate himself from them and dedicatedly work upon improving his present karmas, then definitely he will be able to convert his life's problems and shortcomings into happiness and contentment.
            A person should also clearly differentiate between Karma and fatalism, a specific reason behind any problem is not basically the planetary position associated with it, rather it is the result of one's old karmas which define that problem in his life, that is why it has been said in the Vedas that, "Kaha Kasya Hetu Dukhasya Kashyahetu Sukhasya va Swpurvajitkarmev Karanam Sukhdukhyon", thus Astrology is the evident scripture, whose evidence is given by sun and moon continuously, rest all the issues in the world are subjected controversies, that is, "Apratyaksh Hem Apratyashani Shastrani Vivaadasteshu Kevalam Pratyaksham Jyotishamam Shastram, Chandrakom Yatra Saakshino"; without this evident (Astrology) scripture no Vedic Karmas could be accomplished. It can be used to gratify the individual's life.
            Here, in my website I have discussed about all astrological measures like BisaYantra, Vedic Rituals, areas and diseases associated with planets and their related quick and easy remedies, donations, yantras and stones etc., because in scriptures it has been said that, "Gochre Va Vilagnay Va Ye Graharishtsuchakah Pujyettan Pratyanen Pujita Syuh Shubpradah", thus any contretemps indicating planets in a person's horoscope, palmistry or transact horoscope can be remedised to provide auspicious results either by performing a regular endeavoured ritual, by wearing its related stone or by possessing Bisayantras. If a man follows these tips and measures in his life, then he becomes capable to remedies' the debts related to luxury, paranormal and spiritual subjects and rather will be able to acquire pleasure from these three. Thus, my objective and intention in presenting this website is the same.
Dr. Jitendra Vyas
(Author / Columnist / Astrologer)