About Astrologer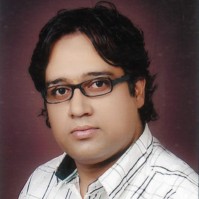 Dr. Jitendra Vyas
Dr. Pt. Jitendra Vyas has done his doctorate in Astrology as well as had written many books exploring different sections of this subject. Although Dr. Vyas being an I.T and Management (HR/Marketing) professional has been effortlessly doing research in astrology subject since 15 years to render his services for the upliftment of an individual as well as the society as whole. Dr. Vyas has presented his researches in many international and national conferences and seminars worldwide and even his research papers had been published in many famous research journals. Jyotirvid Vyas has served as a columnist in many newspapers of India since many years, in these newspapers his daily generalized forecasts and writings on different astrological issues are published.
Dr. Vyas has even served in many colleges, institutes and universities where he has taught different subjects like Sanskrit, Computer, Management and Jyotish Shastra (Astrology). Acharya Ji has been awarded with many prestigious Awards and has also been honoured by various Titles for his tremendous research and contribution in the field of Astrology. He has done an outstanding and astonishing research work in Global Disaster, Astrology manuscripts, Predictive Astrology, Shares and Community Markets, Numerology, Environmental Vastu, Karm-Kand, Yantrik Astrology, Question Horoscope Science and Medical Astrology. Pandit Vyas has always been dedicatedly and sincerely indulged in solving the problems of people which are associated with different aspects of their lives with the help of this deep-rooted Vedic subject – "ASTROLOGY".
Providing Happiness by resolving the problems of people through his honest and sincere guidance are the only asset and tribute to his perseverance and dedicated work.